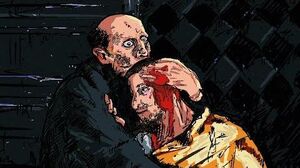 Description
[
]
Have It Your Way is a short posted by 'u m a m i'. It is the third and final installment of the Spooktoberfest Series.
Synopsis
[
]
The short begins with the same musical skeleton from the last Spooktoberfest episode playing a trumpet on the Spooktoberfest stage in front of u m a m i's rendition of the painting "Ivan the Terrible and His Son Ivan" by Ilya Repin. As the skeleton plays a tune, the shot zooms in on Ivan the Terrible's face.
The shot cuts to Mischief playing the organ accompanying the skeleton as the shot finally zooms in all the way on the painting. The camera then slowly pulls back to reveal that Ivan's surroundings have been changed so that he is eating a burger instead of cradling his son's head, and is now inside a restaurant.
The short closes with a "Burger Tzar" logo (a parody of Burger King) and the Russian text "Сделай по-своему" appearing. The text translates to "Have it your way", the old slogan of Burger King.
Gallery
[
]