"I fear camouflage has no effect on those who see the world in black and white." ― Chef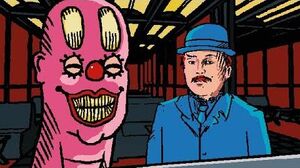 Description
[
]
The ninth episode of the Interface series was published by 'u m a m i' on September 15th, 2018. The episode continues soon after the events of Episode 08. It features 3D animation and the first appearance of Chef, voiced by Yoshi Ando.
Official Synopsis
[
]
Mischief and Henryk visit a restaurant owned by one of Mischief's mysterious acquaintances to have a good munch, but it seems the chef is distraught and there is a lot on his mind.
Summary
[
]
The episode opens with a shot of Chef preparing fish over the counter of the restaurant. Henryk enters, with Mischief shapeshifted onto him in the same manner as in Episode 02 and Episode 05. Chef tells Mischief that the restaurant is closed, and to come back at 5. Mischief- still in Henryk's form- and Chef have some back-and-forth, with Chef speaking both English and Japanese. Chef remarks that Mischief is a parasite, to which he responds, "Guilty". The two have a conversation about camouflage as another patron enters the establishment.
Chef states that he has "been having visions again" and the scene changes to show a bizarre creature with an enormous head and two hands (possibly The Ghost), followed by the appearance of KAMI, who extends her hand to hold a heart in a gyrating, cage-like sphere. Chef continues to talk about his vision before Mischief interrupts. He then transforms into a fly and approaches the other patron in the restaurant, landing on his nose and telling him that the restaurant doesn't open until five.
Notes
[
]
Camouflage
[
]
Chef states whilst talking about camouflage that Mischief is unable to change his color. This is disproven by Mischief's sunflower transformation in Episode 05 and his later confession in Episode 11 that he simply chooses to remain pink.
Parasites
[
]
While Mischief is still shapeshifted onto Henryk, Chef remarks, "[a parasite is] one who uses a host for their own survival... Isn't that what you're doing, Mischief?" This may imply that Mischief is somehow acting as a parasite to Henryk, and may need him for something. One theory strengthened by the events of Episode 20 is that Mischief profits off of the trail of death that seems to follow Henryk, since Mischief can absorb the cerebral electricity that people release upon death.
Gallery
[
]