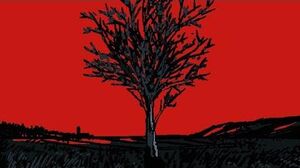 Description
[
]
The tenth episode of the Interface series was published by 'u m a m i' on October 11th, 2018. The episode features select events from Henryk's past. It is currently the shortest Interface episode.
Official Synopsis
[
]
Henryk's past.
Summary
[
]
The episode opens with a shot of Henryk's old house. Birds fly past a bright red sky. The shot changes to the interior of the house, showing a girl playing piano as Henryk walks up to the window. The shot changes again to show Henryk and his wife at their wedding as particles (presumably flower petals) float through the air. We are then shown a figure swinging on a swingset, and then Henryk taking a photograph of five people. Only two of them, a woman and a child in her arms, are clearly visible. Two of the other figures are revealed in Episode 11 to be Henryk's granddaughter and grandson-in-law. The episode ends with the same shot as in the beginning of the episode, with Henryk alone by the window.
Notes
[
]
Photograph
[
]
The photograph taken of Henryk's family is the same one shown in Episode 11. The exact identities of every individual in the photograph are not yet confirmed.
Gallery
[
]