Jurassic World: Dominion Dominates Fandom Wikis - The Loop
Play Sound
"This home — at least the one you remember — it's not here, either." ― Mischief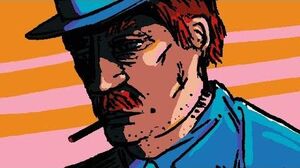 Description
[
]
The sixteenth episode of the Interface series was published by 'u m a m i' on October 26th, 2019. The episode continues immediately after the events of Episode 15 as Mischief and Henryk arrive at Henryk's now-abandoned house. Additional animations for this episode are again provided by ArtKarolina. The wall calendar features the 1954 painting 'Horse and Train' by Canadian artist Alex Colville.
Official Synopsis
[
]
Mischief and Henryk begin their search for the long lost great granddaughter by returning to Henryk's old home in search for clues. Upon entering, the overwhelming memories haunt Henryk, the same thoughts he tried to escape from.
Summary
[
]
The episode opens with the heron crunching down on the frog, killing it. Cerebral electricity is released from the body of the frog and is absorbed by Mischief through his eyebrows, who then states that he really wants to be an amphibian.
Mischief transforms back into his usual spaghetti-like form as the pair arrive at the house. He enters the building as Henryk walks around the grounds, noticing a fallen tree with cerebral electricity buzzing in its roots. Henryk has a flashback to planting this tree as a sapling with his then-pregnant wife. He enters the house to find Mischief transformed into a frog, practicing his croak. Mischief utters the line "I'm a frog... and I'm feelin' fresh!" Mischief talks about how the two are "surrounded by deadwood", and the shot pans to the calendar on the wall, which reads November 2015.
Henryk then has a flashback to he and his daughter making pierogies, a kind of Polish dumpling. His daughter narrates the story of how Henryk and his wife met. One day, Henryk "fell from the sky" in a parachute, with no plane in sight. He was either sleeping or unconscious when he landed, and was brought to the hospital where his not-yet-wife worked. She treated his injuries, and the first thing he said when he awoke was, "I love you".
The flashback ends, and the episode closes with Henryk standing beside the same table previously used for making pierogies in the abandoned house.
Gallery
[
]