Jurassic World: Dominion Dominates Fandom Wikis - The Loop
Play Sound
"When it grows dark and you've lost your way, walk towards the light." ― Henryk, to his daughter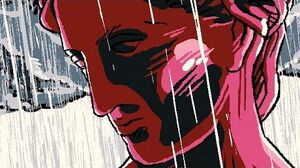 Description
[
]
The seventeenth episode of the Interface series was published by 'u m a m i' on December 24th, 2019. This episode features the destruction of Dreamland and the introduction of a new location, the Lighthouse. The episode references the 1818 painting 'Wanderer above the Sea of Fog' by Caspar David Friedrich.
Official Synopsis
[
]
Mischief reflects on his own past and speaks in metaphorical allegory, which prompts Henryk to consider his painful memories in a new light.
Summary
[
]
The episode begins with Mischief (Percy) cryptically reflecting on his past at Dreamland as a thunderstorm pours down over the park. Several areas of the park are shown before the shot changes to Percy standing on a rooftop as it is revealed that the park is on fire. The flames bellow upwards as Percy asks, "How... do we end this?"
The shot changes to Henryk approaching an open window in the house as his daughter's voice echoes over the scene. She recalls how her father would instruct her to head towards the Lighthouse if she ever became lost, telling her that she would be safe until he came to fetch her. The episode closes with a woman holding an infant, with the woman presumably being Henyrk's daughter and the child being his granddaughter.
Notes
[
]
The destruction of Dreamland
[
]
The real-life Dreamland was an amusement park in Coney Island, New York, from 1904 to 1911[1]. Its demise is the same as in the Interface universe- it was set ablaze by a series of accidents. In the Interface storyline, however, it is implied that either Percy started the fire, or that it was lit by lightning striking the nearby area due to the thunderstorm. Due to other similarities between the parks, it can be concluded that the destruction of Percy's Dreamland also occurred in 1911.
Gallery
[
]
References
[
]