"Just hanging out here at the top of a lighthouse with my good buddy Henryk. Oh god, what's wrong with his eyes. Uhh... Looks like he's tripping balls." ― Mischief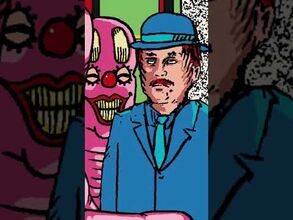 Description
[
]
This Interface one-shot was published by 'u m a m i' on January 26th, 2021. It takes place in the lighthouse after Episode 22, and features Mischief livestreaming himself and an unresponsive Henryk (whose eyes are filled with cerebral electricity) as the Greetings Robotics baby-faced blimp draws near.
Official Synopsis
[
]
Mischief just checkin' in on ya.
Summary
[
]
Mischief holds up a phone, filming himself at the top of the lighthouse. He assures the audience that everything is fine and the situation is under control. The camera moves over to Henryk, standing motionless with his eyes filled with cerebral electricity static, as Mischief explains he is hanging out with his friend. Noticing the state of Henryk's eyes, Mischief comments that Henryk hasn't eaten since they met, and he must have consumed some wild mushrooms at some point without his knowledge. He then pans the camera to reveal the baby-faced blimp and claims once more that the situation is under control and they don't need any help before winking and ending the livestream.
Notes
[
]
Just as in Big Smile's Order, Mischief mentions in this episode that he still hasn't seen Henryk eat since the two of them met. This may suggest that his immortality allows him to live without food.
This is the only short to be included in the official Interface playlist. It is also referred to as Episode 22.5 in the English subtitle file provided by u m a m i.
This is the only Interface content shot with a 'phone' aspect ratio.
Gallery
[
]