This article is a stub.
You can help the umami Wiki by expanding it.
"Mischief... What did I tell you about bringing dirty dumpster animals into the studio?"
"Uh, excuse me sir, but I was the one in the dumpster." ― Mischief and the Hazmatz spokesperson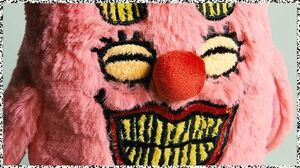 Description
[
]
This Interface one-shot was published by 'u m a m i' on June 5th, 2020. It features a short animation of Mischief encountering a cat in an alleyway before meeting with the Hazmatz spokesperson in a studio. The spokesperson is unable to film their planned promotional video due to an intestinal worm and leaves. Mischief then opens a door and shows the cat a promotion of the real-world Mischief bird plush preorders, which is acted by u m a m i himself. The voice of the Hazmatz spokesperson was provided by Phil Jamesson and the promo was filmed by ArtKarolina.
Synopsis
[
]
The episode begins with a cat running through an alleyway, stopping beneath a sign reading "umamiland." Suddenly, Mischief emerges from a nearby dumpster, frightening the cat and knocking the first "M" off the sign. He exclaims that the cat caught him with his head in the dumpster and starts telling it that the "M" stands for Mischief before being interrupted by a meow. Mischief suddenly realizes that he is speaking to a cat and says he has something it might want to see.
Mischief slithers away into a nearby studio with the cat following. The Hazmatz spokesperson chides him for bringing a dirty dumpster animal into the building, to which Mischief explains that he was the one in the dumpster. Mischief comments that the spokesperson isn't looking well, and the latter says he won't be able to film the planned promo due to an intestinal worm. Mischief doesn't believe that he has a worm, saying he knows a lot about them, and offers to go inside him to check. The spokesperson instead opts to go to the hospital and slowly limps to his car before driving off. Mischief comments that the spokesperson hasn't been the same since having his leg strategically moved to the sides of his head and tells the cat that this wasn't what he wanted to show it. He then opens a nearby door.
The animation then transitions into a live-action segment, where u m a m i unveils the limited-edition Mischief bird plush and gives details about the preorders.
Notes
[
]
This episode features the first non-livestreamed live-action appearance of Justin Tomchuk, aka u m a m i, on his channel.
Gallery
[
]