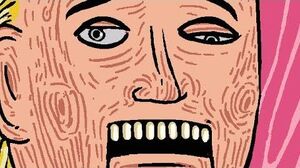 Description
[
]
Why Barry Why is a short posted by 'u m a m i'. It is the sequel to Barry Why and the second installment of the three-part Barry Series. It is also the first entry in the Spooktoberfest Series.
Synopsis
[
]
Barry holds a ventriloquy dummy in the likeness of Hans and performs an operatic piece for the Umami Spooktoberfest. Hans looks on from the sidelines and questions as to how Barry obtained such a dummy, complaining that the dummy doesn't resemble him and that he "didn't consent to this".
Trivia
[
]
Henryk Niebieski is also watching Barry's performance from the sidelines. Hans asks him if the dummy resembles him, to which Henryk does not answer.
Gallery
[
]